The Vega Cannabis Disinfection System
Product ready for market launch.
Cannabis safety tests completed successfully (Israeli MOH, Medical Cannabis Unit – YAKAR).
Currently in preliminary commercial studies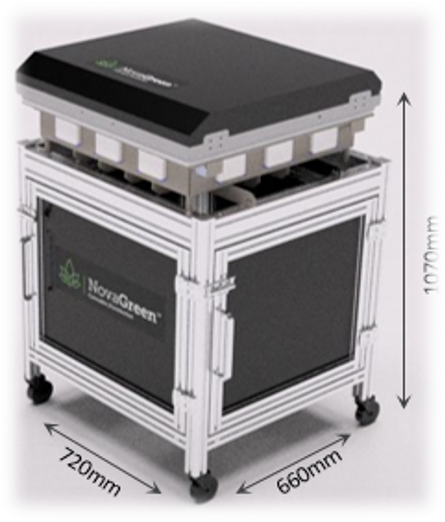 NovaGreen- Safe and Simple
NovaGreen plug-and-play device integrates smoothly
with a grower's on-site operation,
and is easily operated by a trained grower.
PLASMA & DISINFECTION TECHNOLOGY
Cold Plasma- Highly Effective and assuring Regulatory compliance
Cold plasma technology is a well-known method for rapidly and effectively disinfecting the crop without harming the flower's unique properties, assuring regulatory compliance, increasing revenue, and most importantly ensuring consumers receive a safer higher quality product.
Plasma is considered the fourth state of matter. Plasma is a cloud of protons, neutrons and electrons where all the electrons have come loose from their respective molecules and atoms, Plasma has what scientists call collective behavior. This means that the plasma can flow like a liquid or it can contain areas that are like clumps of atoms sticking together.
REGULATORY APPROVALS AND COMPLIANCE NEEDED
The regulatory and compliance needed for our product are divided into product certification which address to the requirements of the actual device to obtain commercialization approval (Safety issues), and product qualification to comply with regulatory standard in each target market in terms of disinfection performance:
o Product Certification – IEC (International Electrotechnical Commission)
1. IEC 61010-1:2010 – standard safety requirements for electrical equipment for measurement, control,
and laboratory use.
2. EMC (Electromagnetic Compatibility) – Functional safety testing. to carefully evaluate the product
design for Functional Safety failure modes in the presence of EMI
o Product Qualification – Most EU countries now allow, or are considering allowing, the medical use of
cannabis or cannabinoids in some form. However, the approaches taken vary widely in terms of both the
products allowed and the regulatory frameworks governing their provision. For example, Dutch
regulations demand that medicinal cannabis contains no more than 100 CFU yeast a mold (colony-forming units) per gram of final product, which is close to sterility. Under the Canadian program, limits are
somewhat higher with a maximum of 10000 CFUs total microbial load per gram, followed by European or
US Pharmacopoeia standards for inhaled preparations, certain specific pathogens that must be completely absent, i.e., Staphylococcus aureus, Pseudomonas aeruginosa and any bile-tolerant Gram-negative bacteria such as E. coli. The absence of fungal mycotoxins must be confirmed by additional quality control testing. National regulatory frameworks are also complicated and there may sometimes be a lack of clarity regarding both the details of the various approaches and how they operate in practice. In addition, they evolve over time, and experts sometimes disagree on how such frameworks should be interpreted legally. Regulation varies between states; The issue of regulation usually requires the approval of the party responsible for cannabis in the Ministry of Health. Nova Green will assist regulatory advisory and will act to comply with regulatory standards in each target market.